SM6FHZ 50 MHz activity
SM6FHZ has been QRV on 50 MHz since January 12, 1990. This was in the middle of sun spot cycle 22. The first year of operation brought 44 new DXCC entities. The next year brought 24 more and DXCC entity number 100 was worked in August 1993.
We soon noticed that F2 openings were rare here up north compared to further south. You need to spend a lot of time listening, in order to catch the few F2 openings useable at these latitudes (57.4N). One advantage (sometimes an disadvantage) we noticed was that the F2 openings are quite selective on 50 MHz. That means that even if we had lower signals strengths here up north, many times we did not need to compete with the stations from the rest of Europe. The opening to us and to other parts of Europe to a specific DX occurred at slightly different times.
Some openings in sun spot cycle 22 worth remembering:
February 8th, 1992: F2 opening to VK from 0800Z to 1230Z. (SFI=241, A=12, K=2, a major flare was reported on February 7th, 0645Z)
February 15th, 1992: F2 opening to VK, JA and PY. At 1220Z we had QRM between VK6PA and PY8TH. Unbelievable!!! (SFI=204, A=9, K=1)
February 16th, 1992: F2 side scatter opening to JA (beaming due east for best signals) from 0915Z to 1200Z. (SFI=203, A=5, K=1,0)
July 7th, 1995: Multi hop Es opening to VE, W0, W1, W2, W3 and W4 from 1930Z to 2300Z.
Sun spot cycle 23 brought another 24 new DXCC entities with F2 involved. The openings in cycle 23 was not as intense as in cycle 22 but the DX activity was much better so the net result was good. The selective F2 openings were quite pronounced during cycle 23, especially to the east.
Some openings in sun spot cycle 23 worth remembering:
November 3rd/4th, 2001: F2 openings to the Far East, Africa and NA with 9G, DU, JA, VE1, VU, W1, XU, XV and XW in the log.
November 18th, 2001: Exciting F2 opening to South and Central America with FG, HP and YV in the log. Also HC8N was heard for about half an hour, unfortunately without a QSO. Pity.
December 30th, 2001: Very nice F2 opening to the West Indies, North, South and Central America with 6Y, CO, FG, HK, KP4, P4, TI, VP2, VP5, W8, W9, YV and ZF in the log.
January 5th, 2002: F2 opening to the US quite far to the west (W5UN in EM23) together with a lot of activity gave many nice QSO's. The W4's and W5's dominated this opening. (SFI=218 A=4 K=1)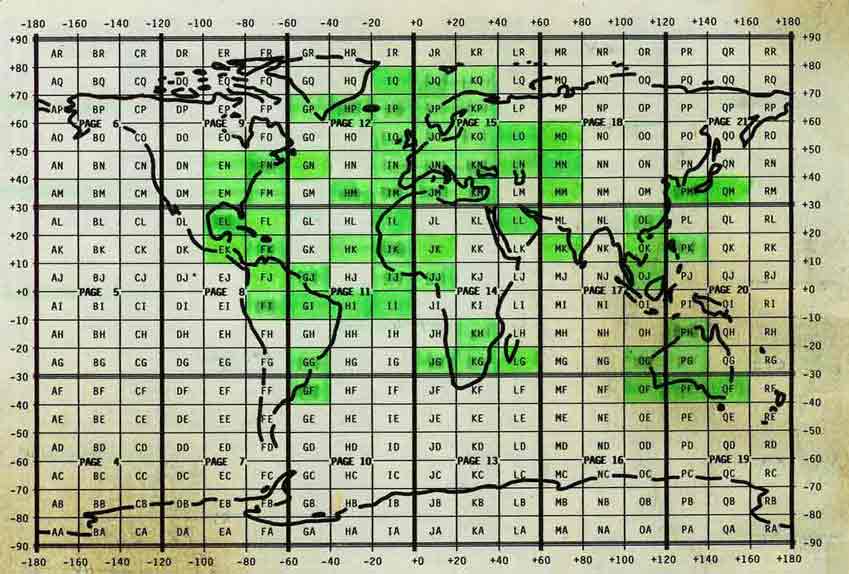 Fields worked on 50 MHz at SM6FHZ, a total of 64.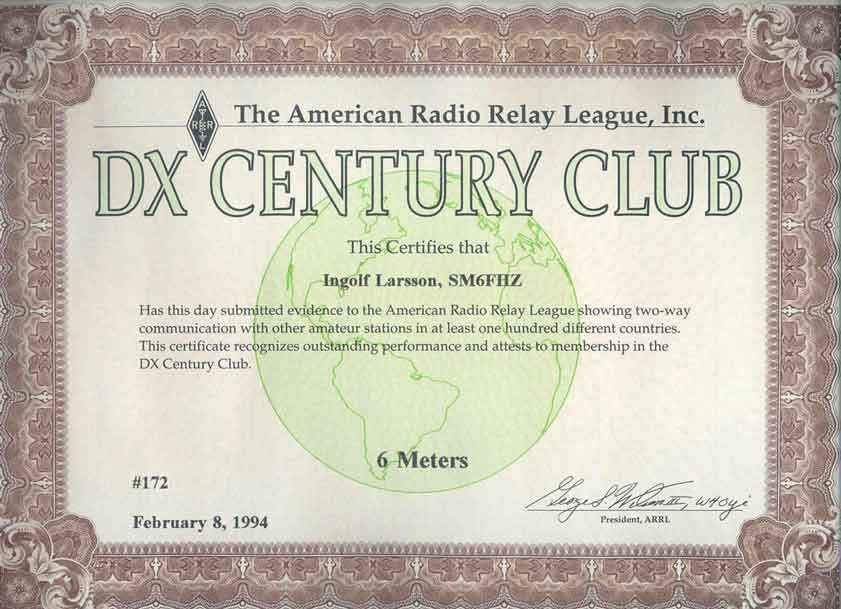 50 MHz DXCC certificate earned during sun spot cycle 22.
Now the total DXCC entities worked, confirmed and credited by ARRL on 50 MHz is 142.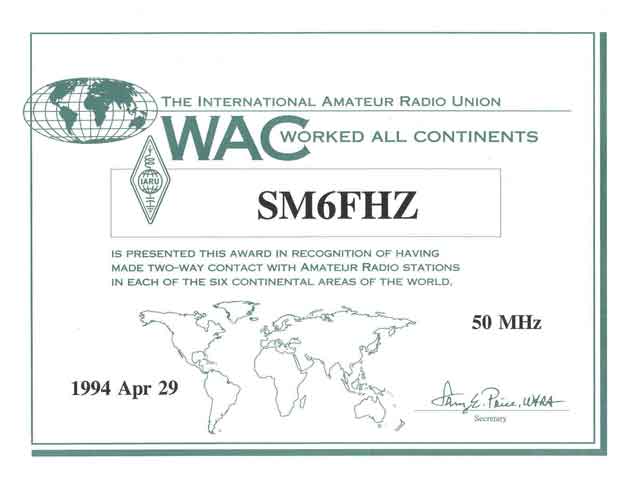 50 MHz WAC certificate earned during sun spot cycle 22.
---

Updated November 23, 2007. http://www.2ingandlin.se/SM6FHZ.htm