SM6FHZ 432 MHz EME
The antenna for 432 MHz EME is my 5.5 m dish with a f/D of 0.37.
I started with using a XE1XA ring feed for 70 cm EME and tropo. Polarization is possible to rotate more than 90 degrees by hand. Remotely controlled polarization rotation will be implemented.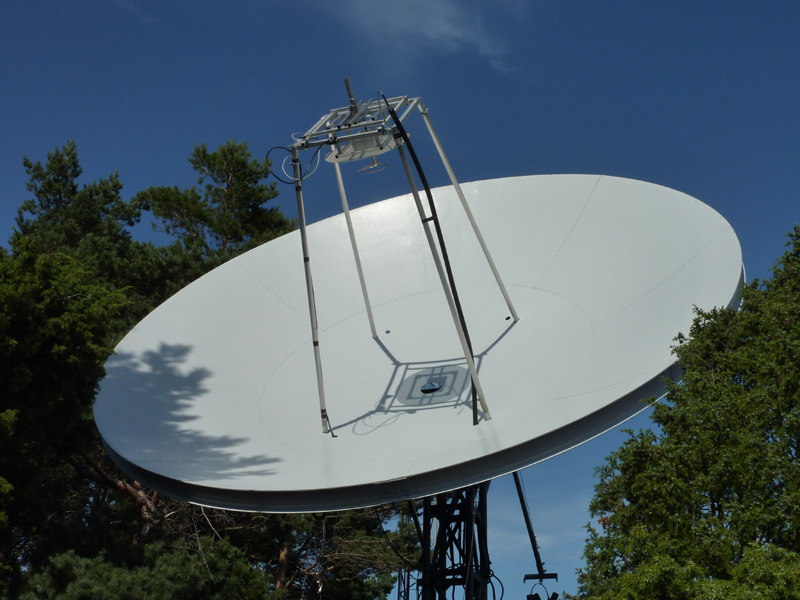 432 MHz feed in the dish during initial sun noise measurements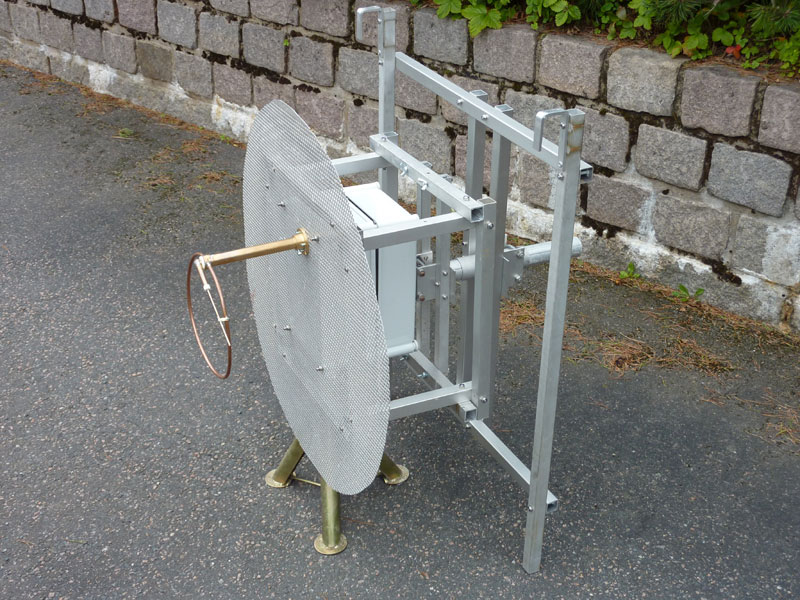 432 MHz XE1XA design loop feed with polarization rotation axis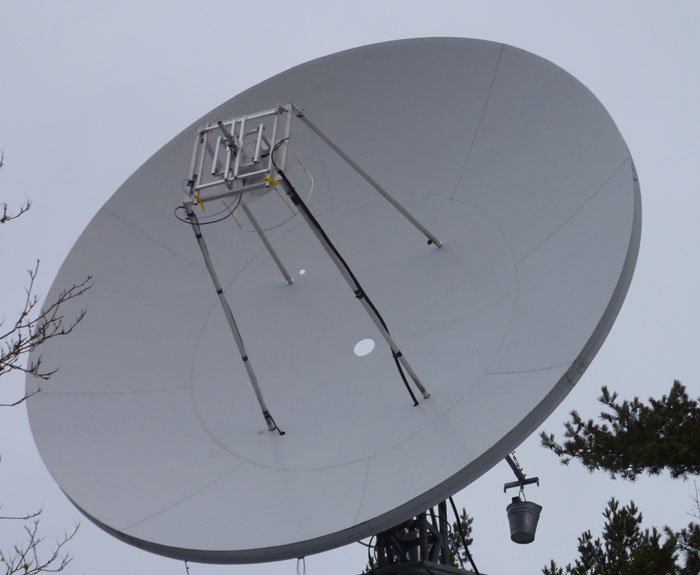 432 MHz Dish with SM6FHZ BFR loop feed (Beam Forming Ring)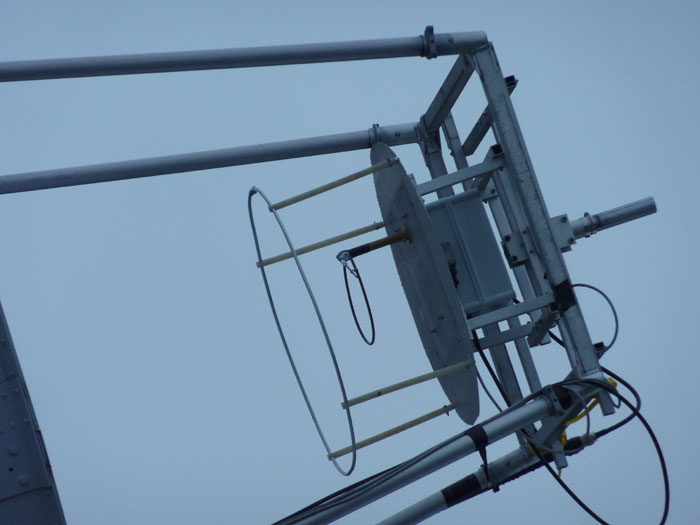 432 MHz SM6FHZ BFR Loop Feed closeup
The BFR Loop feed was installed in the dish December 11, 2010. Unfortunately I was not able to check performance on the sun or any galactic noise source due to their positions that day. I measured 11.8 dB sun noise (SFI 89) at a sun elevation of 1.5 deg. I had nice return from the moon with this feed. I will evaluate the performance as soon as there will be a opportunity.
The transmitter chain consists of an ICOM IC-756pro3 driving a home-made high IP-transverter (modified 450 MHz cellular Rx board both on Rx and Tx) followed by a MRF644 pre-driver to a 2*2SC2897 (MRF309) driver. The power amplifier is a GS23b tetrode in a Russian TV Tx-cavity running very calm.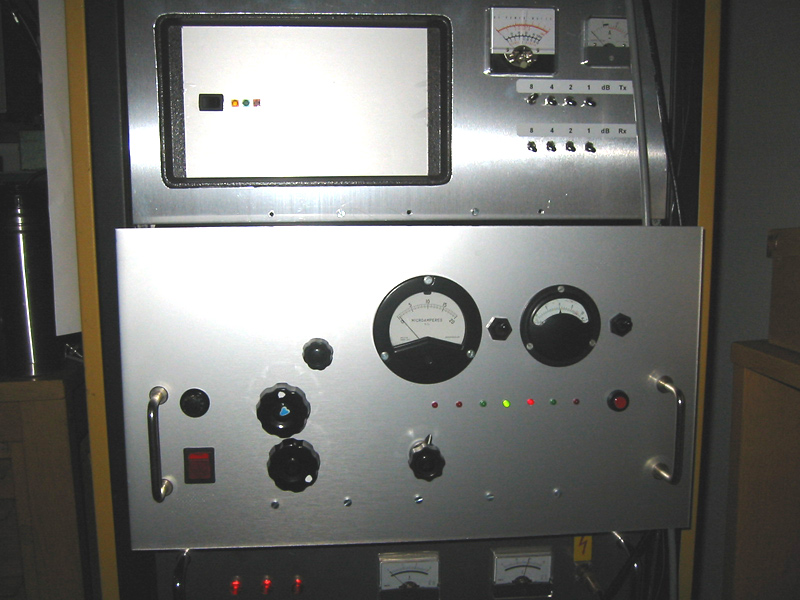 From top down: 432 MHz transverter, GS23b power amplifier and HSP power supply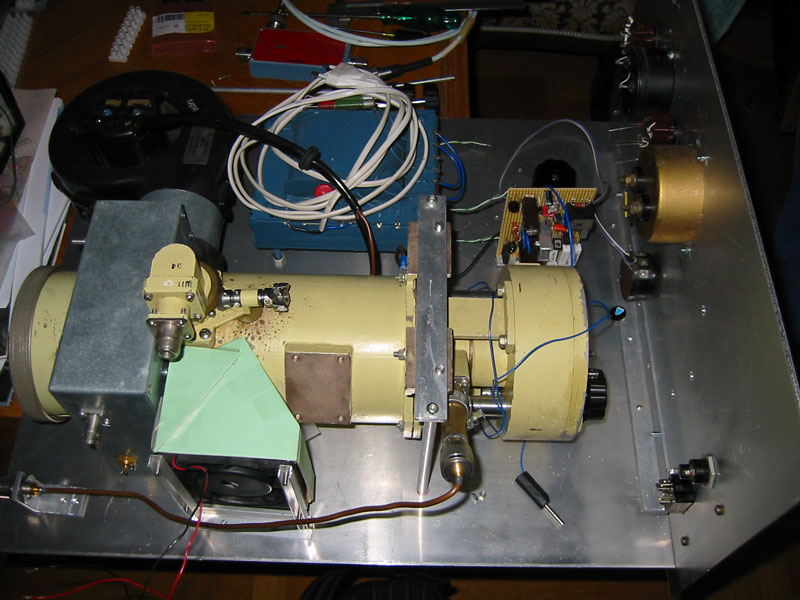 432 MHz GS23b power amplifier during construction work
Feeder loss is about 0.6 dB using 7 m of 1 1/4" foam heliax + 0.3 m of 1/2" super flex heliax + 6 m of 7/8" foam heliax.
The receiver chain starts with a RelComm RDL-SK006 relay for Tx-Rx shift. Preamplifier is a ATF-541 43 on a OZ1PIF board with a modified input circuit. It measures an NF below 0.4 dB including the relay. The antenna port of the relay is connected directly to the 20 cm of low loss air dielectric coax supporting the ring of the feed (see feed picture above). And I do have a second preamp of the same kind as a redundancy in case of LNA failure. The performance of both of the pre-amps are the same.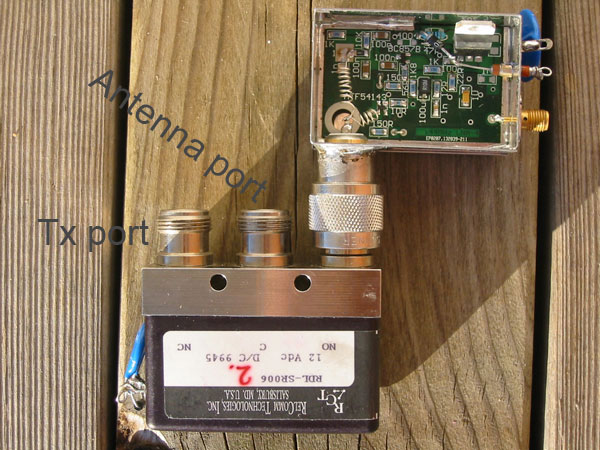 432 MHz

ATF 541 43 preamp and TR-relay




About 20 m of RG-213 cable runs from the LNA at the feed into the transverter via a band pass filter.

For the moment I am working on the polarization rotation and indication device.

Initial sun noise measurement show 11.4 dB (at a solar flux of 72) with Leo as the cold sky reference. Measurements of Cygnus A show 1.9 dB and Sagittarius A (never over 4 deg elevation by me) show 4.1 dB over Leo as cold sky reference. Ground (at -4 deg elevation) to cold sky is 4 dB.

I have a list of a few things to improve on the 70 cm EME station. I hope to gain performance as I implement them one by one.

SDR-recordings from the ARRL EME contest 2013 (October 27th):


Right click on the link and choose "Save link as". The files are about 100 MB each. Plays in the SDR-Radio S/W. You can then see the 70 cm band from 432.000 to 432.050 MHz and listening to the stations present in that frequency range.



SM6FHZ 432 MHz EME initials list (2022-03-15):


| | | | | | | | | | | | | |
| --- | --- | --- | --- | --- | --- | --- | --- | --- | --- | --- | --- | --- |
| Initial # | Call | Date | Time | Square | Square # | Field # | EME DXCC # | State # | Mode | Distance | QSL | Remarks |
| 1 | I1NDP | 2009-11-08 | 07:29 | JN45AL | 1 | 1 JN | 1 | | CW | 1352 | OK | Eu |
| 2 | NC1I | 2009-11-08 | 07:45 | FN32OB | 2 | 2 FN | 2 | 1 MA | CW | 5916 | OK | Na |
| 3 | UA3PTW | 2009-11-08 | 08:07 | KO93BS | 3 | 3 KO | 3 | | CW | 1687 | OK | |
| 4 | DK3WG | 2009-11-08 | 08:55 | JO72GI | 4 | 4 JO | 4 | | CW | 585 | OK | |
| 5 | DL9KR | 2009-11-08 | 09:06 | JO40DE | 5 | | | | CW | 837 | OK | |
| 6 | DL7APV | 2009-12-05 | 04:14 | JO62JR | 6 | | | | CW | 522 | OK | |
| 7 | K0RZ | 2009-12-05 | 04:23 | DM79JX | 7 | 5 DM | | 2 CO | CW | 7732 | Sent | |
| 8 | K1RQG | 2009-12-05 | 04:36 | FN54PP | 8 | | | 3 ME | CW | 5480 | OK | |
| 9 | SD3F | 2009-12-05 | 04:48 | JP92AO | 9 | 6 JP | 5 | | CW | 671 | OK | |
| 10 | SV1BTR | 2009-12-05 | 05:03 | KM18NO | 10 | 7 KM | 6 | | CW | 2242 | OK | |
| 11 | DF3RU | 2009-12-05 | 05:18 | JN59UL | 11 | | | | CW | 881 | OK | |
| 12 | KL6M | 2009-12-05 | 05:39 | BP51DC | 12 | 8 BP | 7 | 4 AK | CW | 6766 | OK | |
| 13 | SM4IVE | 2009-12-05 | 05:49 | JO79SD | 13 | | | | CW | 286 | OK | |
| 14 | G3LTF | 2009-12-05 | 06:57 | IO91GG | 14 | 9 IO | | | CW | 1104 | OK | |
| 15 | JJ1NNJ | 2009-12-05 | 19:17 | QM06GH | 15 | 10 QM | 8 | | CW | 8563 | OK | As |
| 16 | OZ4MM | 2009-12-05 | 19:58 | JO55GH | 16 | | 9 | | CW | 247 | OK | |
| 17 | VK3UM | 2009-12-05 | 21:39 | QF22RO | 17 | 11 QF | 10 | | CW | 15972 | OK | Oc |
| 18 | OK1CA | 2009-12-06 | 05:36 | JO70GM | 18 | | 11 | | CW | 783 | Sent | |
| 19 | DG1KJG | 2009-12-06 | 06:14 | JO30NT | 19 | | | | CW | 797 | OK | |
| 20 | SM2CEW | 2009-12-06 | 07:21 | KP15CR | 20 | 12 KP | | | CW | 1073 | OK | |
| 21 | KP4AO | 2010-04-16 | 17:05 | FK68OI | 21 | 13 FK | 12 | | SSB | 7634 | OK | |
| 22 | JA6AHB | 2010-04-24 | 14:46 | PM53CP | 22 | 14 PM | | | CW | 8388 | OK | |
| 23 | OK1DFC | 2010-04-24 | 15:32 | JN79GW | 23 | | | | CW | 847 | OK | |
| 24 | OE5JFL | 2010-04-24 | 15:52 | JN68RL | 24 | | 13 | | CW | 944 | OK | |
| 25 | DL4MEA | 2010-04-24 | 16:28 | JN58RI | 25 | | | | CW | 1006 | | |
| 26 | SP6JLW | 2010-04-24 | 19:39 | JO80JK | 26 | | 14 | | CW | 832 | OK | |
| 27 | SP7DCS | 2010-04-24 | 19:55 | JO91MN | 27 | | | | CW | 794 | OK | |
| 28 | LU7DZ | 2010-05-15 | 15:05 | FF78RA | 28 | 15 FF | 15 | | CW | 12192 | OK | Sa |
| 29 | R2/DL1YMK | 2010-05-16 | 07:18 | KO04FV | 29 | | 16 | | CW | 596 | OK | |
| 30 | OH2PO | 2010-10-30 | 05:55 | KP10XH | 30 | | 17 | | CW | 763 | OK | |
| 31 | PA3DZL | 2010-10-30 | 06:20 | JO21HM | 31 | | 18 | | CW | 807 | OK | |
| 32 | K4EME | 2010-10-30 | 07:39 | FM08KF | 32 | 16 FM | | 5 VA | CW | 6590 | | |
| 33 | ES5PC | 2010-10-30 | 08:33 | KO38HJ | 33 | | 19 | | CW | 875 | OK | |
| 34 | W7CI | 2010-10-30 | 09:36 | DM41UN | 34 | | | 6 AZ | CW | 8771 | | |
| 35 | PI9CAM | 2010-10-31 | 07:14 | JO32ET | 35 | | | | CW | 621 | OK | |
| 36 | N4GJV | 2010-10-31 | 09:42 | EM95PS | 36 | 17 EM | | 7 NC | CW | 6892 | | |
| 37 | SV3AAF | 2010-10-31 | 10:06 | KM17KO | 37 | | | | CW | 2342 | | |
| 38 | WA6PY | 2010-11-27 | 07:12 | DM13LA | 38 | | | 8 CA | CW | 8909 | OK | |
| 39 | K7XQ | 2010-11-27 | 09:09 | CM97QI | 39 | 18 CM | | | CW | 8608 | | |
| 40 | OH2DG | 2011-03-12 | 14:44 | KP30CK | 40 | | | | CW | 885 | OK | |
| 41 | OZ6OL | 2011-04-09 | 14:22 | JO65DJ | 41 | | | | CW | 223 | OK | |
| 42 | VE6TA | 2011-04-09 | 18:32 | DO33GS | 42 | 19 DO | 20 | | CW | 6731 | | |
| 43 | K2UYH | 2011-04-09 | 19:25 | FN20OF | 43 | | | 9 NJ | CW | 6222 | OK | |
| 44 | DL1YMK | 2011-04-10 | 11:41 | JO31QX | 44 | | | | CW | 671 | OK | |
| 45 | JA0TJU | 2011-04-10 | 14:02 | PM97HI | 45 | | | | CW | 8384 | | |
| 46 | LZ1DX | 2011-04-10 | 15:59 | KN22TK | 46 | 20 KN | 21 | | CW | 1923 | | |
| 47 | LY/DL1YMK | 2011-06-03 | 07:05 | KO06MB | 47 | | 22 | | CW | 575 | OK | |
| 48 | K5GW | 2011-11-19 | 07:32 | EM12QX | 48 | | | 10 TX | CW | 7988 | OK | |
| 49 | G4RGK | 2011-11-19 | 09:26 | IO91ON | | | | | CW | 1048 | OK | |
| 50 | F2TU | 2012-03-03 | 15:29 | JN38LG | 49 | | 23 | | CW | 1069 | OK | |
| 51 | LX1DB | 2012-03-03 | 17:28 | JN39CO | 50 | | 24 | | CW | 946 | OK | |
| 52 | JA9BOH | 2012-03-04 | 14:15 | PM86FA | 51 | | | | CW | 8428 | OK | |
| 53 | DJ3JJ | 2012-04-15 | 09:20 | JN48JS | 52 | | | | CW | 982 | OK | |
| 54 | K5QE | 2012-09-09 | 08:27 | EM31CJ | 53 | | | | CW | 7990 | OK | |
| 55 | I2FHW | 2013-10-27 | 09:03 | JN45NU | | | | | CW | 1298 | | |
| 56 | HB9Q | 2013-10-27 | 10:58 | JN47CG | 54 | | 25 | | CW | 1154 | OK | |
| 57 | OK1KIR | 2013-11-17 | 16:31 | JN79DW | | | | | CW | 790 | OK | |
| 58 | SM3JQU | 2013-11-17 | 17:56 | JP82QM | 55 | | | | CW | 645 | | |
| 59 | PY2BS | 2013-12-01 | 10:43 | GG66PJ | 56 | 21 GG | 26 | | CW | 10498 | OK | |
| 60 | G0JLO | 2019-10-19 | 05:52 | IO92FS | 57 | | | | CW | 1001 | | |
| 61 | PA2V | 2019-10-19 | 09:13 | JO22IM | 58 | | | | CW | 713 | | |
| 62 | UT5DL | 2019-10-19 | 22:22 | KN18EP | 59 | | 27 | | CW | 1195 | | |
| 63 | SP9VFD | 2019-10-20 | 09:37 | JN99XO | 60 | | | | CW | 1015 | OK | |
| 64 | DL6SH | 2021-02-20 | 13:40 | JN48SW | | | | | CW | 954 | | |
| 65 | DG5CST | 2021-02-20 | 13:48 | JO60DS | 61 | | | | CW | 737 | | |
| 66 | PA5Y | 2022-03-12 | 21:15 | JO21VO | | | | | CW | 758 | | |
| 67 | W5LUA | 2022-03-13 | 00:31 | EM13QC | 62 | | | | CW | 7976 | | |

---
Updated March 15th, 2022. http://www.2ingandlin.se/SM6FHZ.htm